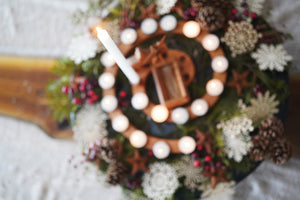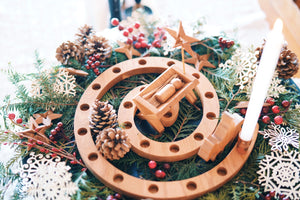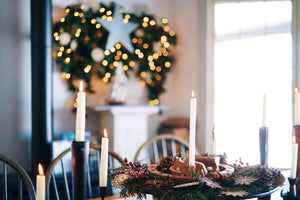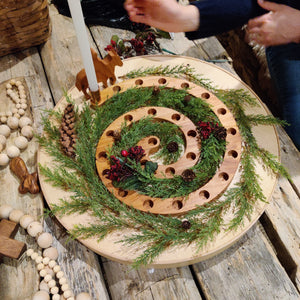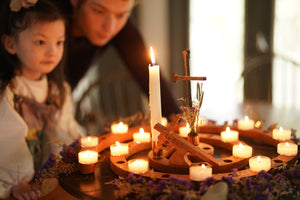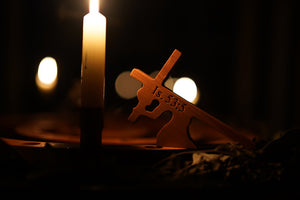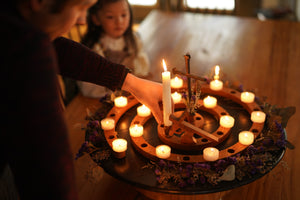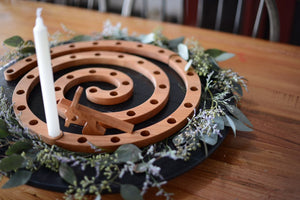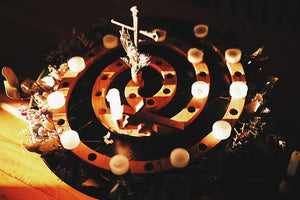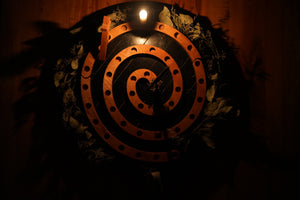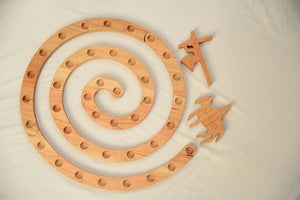 - Cradle-to-Cross Wreath - Wooden Advent and Lent Calendar
Celebrate advent and lent like never before with this timeless heirloom.  This unique carved wooden advent and lent calendar spiral is makes an unforgettable family tradition.
From Advent, to Lent, to all of life's celebrations and special moments, we encourage you to create new traditions with your family by creating time for Christ in your busy days.
Please note, orders made today will ship Lordwilling December 7th.

Your wreath comes with: 
10-day center spiral 
15-day Advent extension 
two extensions for Lent
Mary and Donkey figurine 
Jesus and Cross figurine 
booklet explaining usage 
The Messiah Manger, which we love to use to create a tradition of giving, is sold separately 😊, and is available here.  It is designed to perfectly fit nested over the last candle hole, if you chose to use it as a wreath accompaniment.  
We have prayerfully written two (free downloadable) devotionals, Advent: Celebrating Christ From The Cradle To The Cross - Experience the Holy Days With Twenty-Five Names of Jesus, and Lent: Celebrating Christ From The Cradle to the Cross - Experience the Holy Days with Forty Names of Jesus.  It was deeply meaningful to write and craft, bringing tears to our eyes at times as it was written, and we hope your family loves it as much as we do.
The Cradle-to-Cross Wreath, which has been reimagined to include birthdays, anniversaries, and other celebrations, presents an intentional and meaningful way to keep company with Jesus Christ in every season of life.
The center spiral of the wreath is 10 days long, so you can count down to all of life's little celebrations - birthdays, anniversaries, the end of the school year, and more.

Add the 15 day extension and the carefully carved figure of Mary on the donkey inscribed with Luke 1:32, and the beautiful spiral is the perfect length for Advent, counting down the days until Christ's glorious birth.

The wreath comes with two more extensions that lengthen it to 40 days, and the cross-bearing figure of Jesus engraved with Isaiah 53:5, providing the perfect centrepiece for a Lenten season full of intentionality and contemplation.
To use the Candle-to-Cross Wreath, set up your desired length, and mark the passing of the days by lighting a new candle each day or by moving one lit candle forward each day. Be creative in how you incorporate the wreath into your family traditions.
Additionally, your family can observe the 40 days between Easter and Jesus' Ascension to Heaven with the Cradle-to-Cross Wreath, using a candle or perhaps a homemade paper flower or butterfly to trace the days until the Savior was taken up into Heaven.
It's our quiet prayer that celebrating all of life's holy moments with this unique heirloom will directly connect your celebrations to Christ for generations, making family faith memories year after year. We hope Cradle-to-the-Cross Wreath may bless your family as it has deeply blessed ours.
Specifications:

The Cradle-to-Cross Wreath and its accompanying figurines are made of hand carved cherry wood and stained with linseed oil.

The wreath is made for ¾" candles.

The 10-day birthday wreath measures 9 inches long, 7 inches wide.

The Advent extension increases the wreath size to 13.75 inches long, 12 inches wide.

The Lent extensions further increase the wreath to 17.5 inches long by 16.25 inches wide.

The wreath is 0.75 inches high, and weighs 1 pound, 7.6 ounces in total.