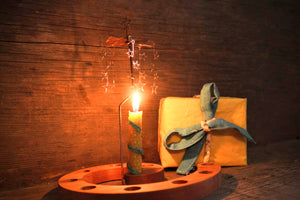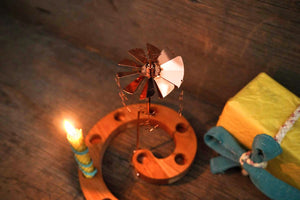 Birthday Carousel Spinner -
This year, start a new birthday tradition with your family: counting down the days until the joyful celebrations of your family's birthdays, celebrations of God's grace and beautiful creation, with our whimsical Birthday Spinner.
Please note, orders made today will ship Lordwilling October 14th. 
Designed to accompany the 10-day inner spiral of the Cradle to Cross Wreath (sold separately!), this delightful Birthday Spinner will add whimsical anticipation to each and every birthday countdown.
Ten days before the birthday being celebrated, place a candle or a tea light on the marker hole furthest away from the centre of the 10-day wreath spiral, and set the spinner up in the centre of the wreath. Every day, the person being celebrated can move the candle closer to the centre of the wreath, and closer to the spinner.  
Day by day, as you get closer to the birthday, the candle gets closer to the centre of the spiral, and the Birthday Spinner! 
After ten days, on the special day God brought the birthday child (or adult!) into the world, the candle will reach the centre of the wreath, and when lit, will spin the copper colored carousel round and round, sending sparkles of light around the room as stars dance and spin on top and around it.  The star motif was chosen because the same God who breathed the stars into being also knit you together in your mother's womb, which is absolutely breathtaking to consider - and we thought deserved to be a celebratory reminder of how much God cares for us. 
* Please note: this item is only the copper spinner that fits in the centre of the ten day spiral, and does not include the spiral or the candle.