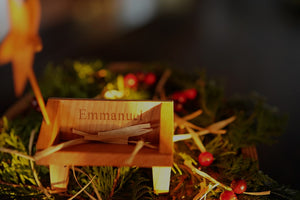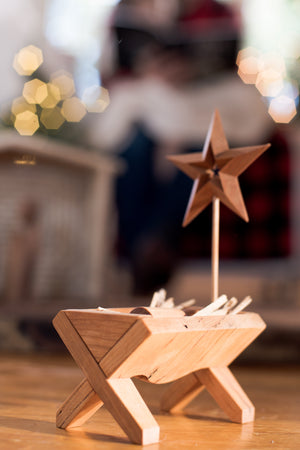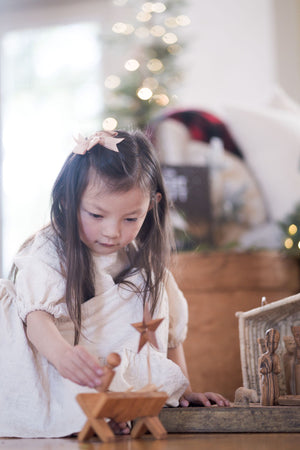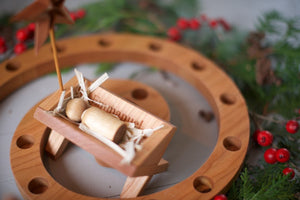 Messiah Manger
This Christmas, start a new tradition with your family: practicing giving, as you anticipate the arrival of the Greatest Gift.
* Please note: this item includes only the manger; the Cradle-to-Cross Wreath is sold separately here. *

Please note, orders made today will ship Lordwilling  October 14th. 
The Messiah Manger now has a companion children's Christmas story! You can purchase the Manger together with The Light Gift for savings here.

On December 1st, remove the star from the manger and give it to a member of your family. This family member has 24 hours to do an act of kindness for another member. Once they've given the gift of their kindness, their time, and their love, they add some straw to the manger and pass the star on to the next member of the family.
Day by day, the manger will fill with straw as you fill your Christmas preparations with love and the spirit of giving. And when the manger is ready, replace the star and your family will celebrate the coming of the Greatest Gift.
(If you start a little later into the season, simply adjust the number of pieces of straw added to the manger.)
The Messiah Manger is handcrafted from cherry wood and stained with linseed oil. It comes with the manger, the giving star, straw for the manger, and a baby Jesus.
We hope the Messiah Manger will add something special to your Christmas traditions this year. The Manger can be used by itself or together with the Cradle-to-Cross wreath, available to purchase [here].
(If you are curious where you can find a Lazy Susan to stage your table centrepiece on, [this] may be helpful.)