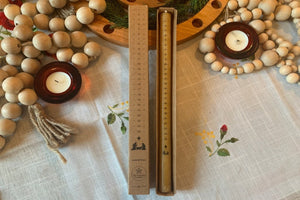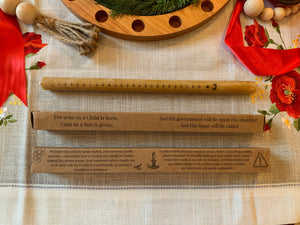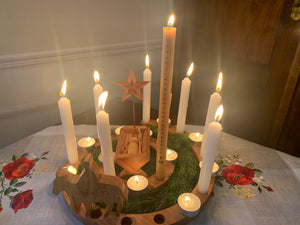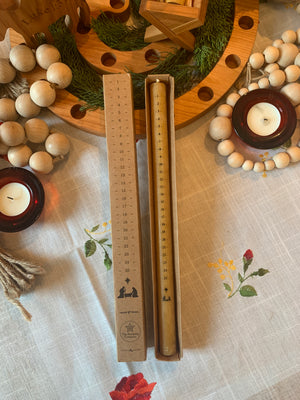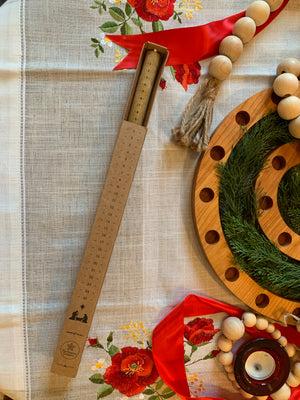 Beeswax Numbered Advent Candle
Please note, orders made today will ship Lordwilling October 14th.
These custom-made beeswax candles are a perfect companion to our Cradle-to-Cross wreath. Each candle is carefully numbered to match the days of the wreath and measures 12 inches tall, providing 15-20 minutes of burn time per day, perfect for daily family meals or devotions.

We've designed these candles to eliminate the hassle of finding the right fit for your wreath, as many candles on the market have inconsistent sizing and lack standardization. Each candle is handmade using 100% pure, natural beeswax, with no artificial scents. The candles have a faint and subtle, tangy scent of herbs and wildflowers, reminiscent of the fields visited by the bees that create the wax for these candles.

Each candle comes packaged in a sturdy, brown paperboard box inscribed with words from the prophet Isaiah, reminding us of the birth of Christ, the government upon his shoulder, and the peace that he brings. The box also includes instructions for usage and safety.

As you light your candle each day, we hope it serves as a meaningful reminder of Christ's coming during the advent season. You can use it in conjunction with the Cradle-to-Cross Wreath or as a standalone centerpiece.

The candle box also includes instructions printed on the bottom for both usage and safety.

Safety 
In order to keep this holy season as joyous, festive, and safe as possible, please remember to enjoy the lighting of your candle safely. Please ensure the candle is securely in its holder, and that children and pets cannot topple it.  Do not burn below 1.5 inches in height, and never leave a lit candle unattended.