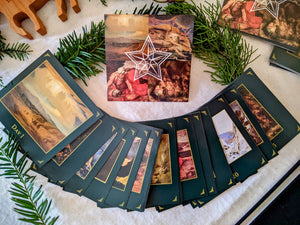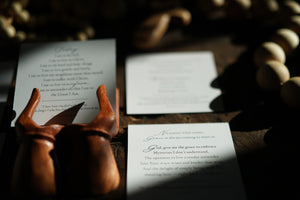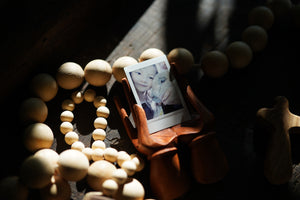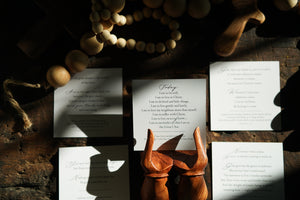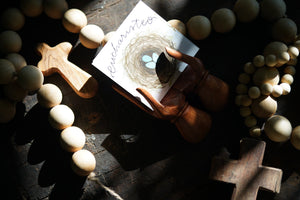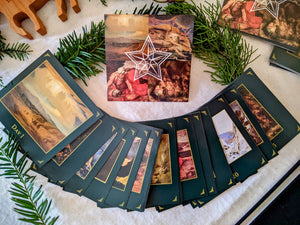 - Wooden Hands -
For a limited time, until December 1st, each set of hands comes with a special addition: a set of Advent Art Countdown Cards.
These exclusive cards, crafted by Melba and based on the Cradle to Cross Advent Devotional, encapsulate the journey from the Fall to Christ's birth through art. Melba uses her expertise in Art History (she has a BA in Art History from Harvard and a MA in museum studies from NYU) to curate a set of artworks paired with scripture references that vividly lead us from man's creation and fall to the prophetic voices leading to Christ's redemptive coming, to His glorious birth. 
Each Advent Art Card, numbered 1 through 26, features a work of classical art, a Name of Jesus, and two Scripture references -- one reference contextualizes the name of Jesus, and the other relates the piece of artwork to the overarching story of God's redemption. Additionally, Melba has written a brief background for each piece and added intriguing details. This project, combining Melba's passion for art history and scripture, has been one of her most meaningful and inspiring undertakings.
Please note, orders made today will ship Lordwilling December 7th.
Please make a selection in the drop down menu before you add to cart.
Wooden Hands with Advent Cards (19.99 from 29.99 USD)

Advent Cards - Do not come with Hands (9.99 from 14.99)

Wooden Hands - Do not come with Advent Cards (19.99 from 14.99)
These handcrafted wooden hands are a unique and meaningful way to display reminders of hope and the power of prayer. Each hand is carefully crafted to serve as a daily reminder of Christ's encouragement and the importance of prayer when displayed on a desk, bookshelf, or bedside table.
Measuring 3.5 x 6 x 1.25 inches, these wooden hands are designed to hold cards that are between 4 inches and just over 5 inches wide.
Each set comes with five 4 x 4 inch prints that feature a beautiful watercolor painting on the front and a prayer and a verse on the back of each card.
But these hands are not just for holding cards. They are also the perfect size for holding little pictures of those you love and pray for.
May these hands be a daily reminder of the power of prayer and the hope that we have in Christ. May they serve as a powerful reminder to pray earnestly for those we love and to hold onto hope in all circumstances.