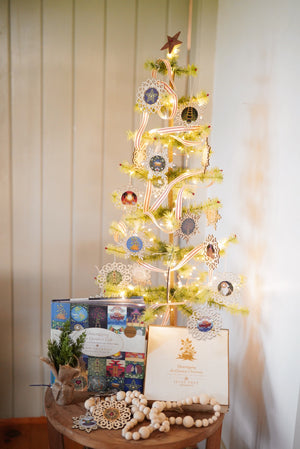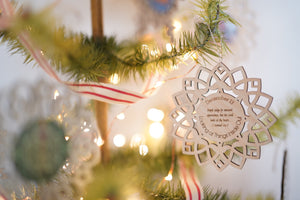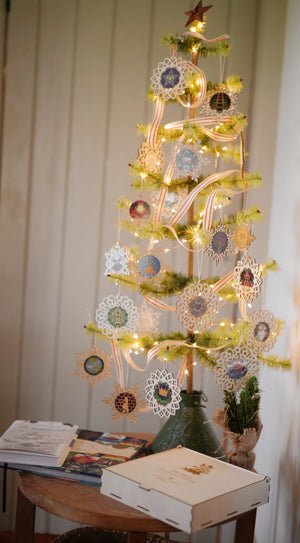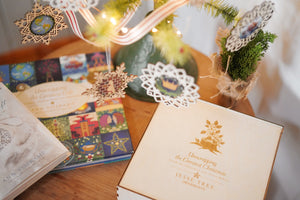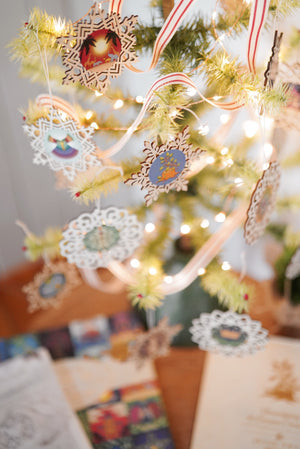 - Unwrapping the Greatest Gift Ornaments -
Please note, orders made today will ship Lordwilling December 7th.
In crafting and designing these Jesse Tree ornaments to accompany Unwrapping the Greatest Gift, we wanted something that was a beautiful, colorful addition to any Christmas tree, but that also was sturdy enough to withstand the inevitable drops, bumps, and "oopsies" that happen with every family putting ornaments on a tree. 
Also, when you choose our Jesse Tree Ornaments this year, we'll also slip The Greatest Gift DVD into the package as our complimentary gift to you—while supplies last. This four-week video curriculum by Ann Voskamp offers a deeper insight into the cherished Jesse Tree tradition.
We also wanted to make sure each ornament was simply yet elegantly engraved with each day's date, scripture reference, and devotional description, to ensure it is easy to use the ornaments either alone or in company with the daily devotionals featured in Unwrapping the Greatest Gift. 
The other important factor in creating these ornaments was storage.  Every year growing up, reading a Jesse Tree devotional and hanging up ornaments, it was always difficult to keep our ornaments accessible and organized for 25 days. We also needed a no-fuss way to store them away until the next Christmas, and the many Christmases after that, because let's be honest, Christmas storage can sometimes be hard.  
So, it was mission critical to have a beautiful way to present and keep the ornaments throughout the season before they went on the tree, and then a simple and easy way for them to be safely stored until the next season.  
Mission more than accomplished!  Our new beautiful little wooden box is both the perfect way to protect and display the ornaments in anticipation of being placed on the tree, as well as the perfect little storage container to keep them safe until the next Advent season. 
When I held the first wooden box that each set of ornaments comes in, Melba said I looked for all the world like a little child who had just gotten all his Christmas surprises all at once.  And it's true – I was that happy with how these have turned out!
A shoot will come up from the stump of Jesse; from his roots a Branch will bear fruit...
If you are using the Unwrapping the Greatest Gift devotion this year, marking the coming of Jesus, we hope these humble works, the Christmas tree ornaments, commemorating the wonderful story of our redemption.
The Jesse Tree Ornaments use the artwork from Unwrapping the Greatest Gift.
The artwork represented in each ornaments are as follows:
Dead Stump with Green Shoot
Creation of Earth
The Tree in the Garden
Noah's Ark
Abraham's Tent
Sandals
Ram in Thicket
Jacob's Ladder
Joseph's Coat of Many Colors
The Ten Commandments
Rahab's Scarlet Rope
Boaz's Sheaf of Wheat
King David's Crown
A Great Light
Elijah's Fire
Jonah's Fish
Bethlehem
Xerxes/Esther's Scepter
Habakkuk's Watchtower
Zechariah and Elizabeth
Seashell for Rain in the Desert
A Heart
Joseph's Tools
Jesus in the Manger
The Great Star
The finished ornaments are made of lasered 1/8th-inch thick wood, and are 4 inches wide by four inches tall.  The artwork is printed in full colour on with lamination, to stand up to even the tiniest of fingers. 
Unwrapping the Greatest Gift, the Christmas devotional is available to purchase here on Amazon: Unwrapping the Greatest Gift