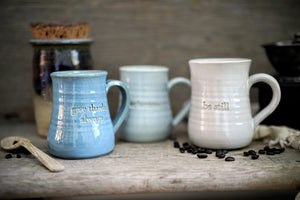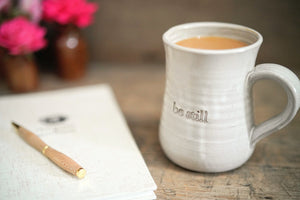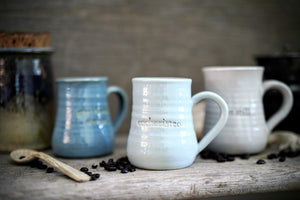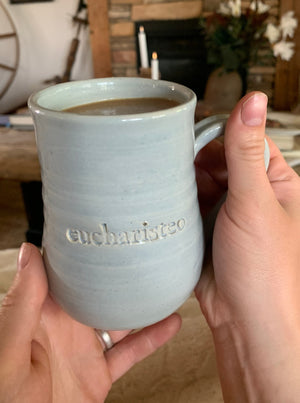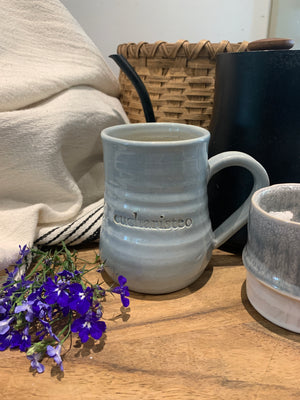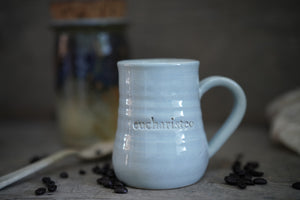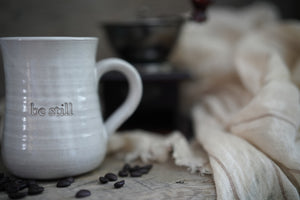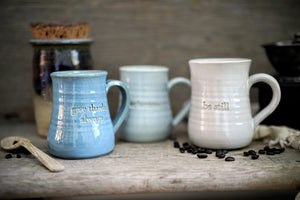 Handmade Gratitude Mugs
A perfect choice for intentional reflection, or as an inspiring gift, each mug is thoughtfully designed to be a daily reminder to give thanks. 
Please note, orders made today with mugs will ship Lordwilling December 7th.
Each mug features qualities that we felt embodied the "perfect mug".
Crafted to hold around 14 fluid ounces, each mug ensures that when you settle in for a warm cup of something, you won't need to hop up for seconds any time soon. 
Reimagining the classic potbelly shape with softer lines, each mug fits snugly into your hands, providing the comfort of holding a steaming mug close in the chill of morning, winter, or darkness. The slightly rippled surface is unassumingly beautiful, and the handle is softly curved, providing a comfortable yet sturdy grip molded to fit your fingers' natural shape.

As each mug is completely hand made by pottery artisans in Waco, Texas, slight variations lend a unique charm to every piece — no two mugs are the same. 

Each mug pairs a distinctive glaze color with a meaningful word of choice which adds a unique charm to the design:
"Eucharisteo" Mug:

Made of white clay with a cloud blue glaze, this mug is a pale blue hue with misty grey undertones. It evokes the light tranquillity of the dawn sky, reflecting the grace and joy embodied by 'Eucharisteo.'
"Give Thanks Always" Mug:

Made of white clay with a darker blue glaze, this mug features earthy ochre undertones.

 

The deep color is calming and reassuring, like the calm amidst the storm, and inspires continual gratitude.
"Be Still" Mug:

Made of red clay with variegated grey glaze, this mug's gently neutral tone is warm and peaceful. The uniqueness of this clay/glaze combination is a reminder of God's unique beauty in the world around us, encouraging us to be still in His presence.
Each design detail of every mug — from the indented stamp of the word to the silky finish of the glaze to the hand-formed shape formed for your hands — is a thoughtful and intentional characteristic intended to create a mug that becomes a favourite, a mug that serves every morning and every afternoon, a mug that comforts in all seasons…and above all, a mug that inspires daily, intentional gratitude. 

Care Information

These mugs are microwave and dishwasher safe. However, we do recommend caution when microwaving them as the clay tends to get very hot. For dishwashing, we suggest avoiding more acidic and abrasive detergents, such as Cascade and Lemi Shine, which can cause unnecessary wear on some of our glazes.