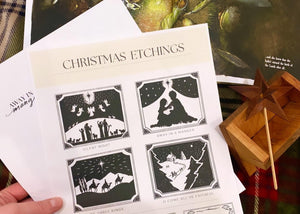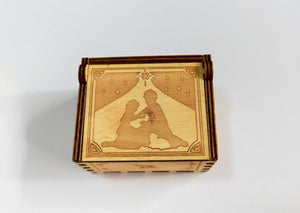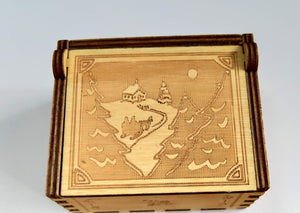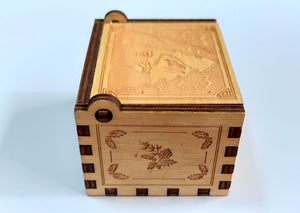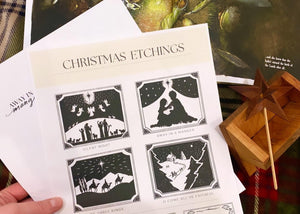 Christmas Music Boxes
Join us as we prepare our hearts and homes for the celebration of Christ's birth with these exquisitely crafted wooden Christmas music boxes — a gift that truly reflects the profound grace and love of our Savior's arrival. Each box, with its intricate laser engravings reminiscent of age-old woodblock cuttings, captures a piece of the most wonderful story ever told, and promises to be a cherished treasure in the hands of every believer, young and old.
Please note, orders made today will ship Lordwilling December 7th.
We have been blessed to be able to curate a limited collection of four charming music boxes, each playing a cherished Christmas carol.
Whether you're drawn to one particular carol or wish to surround yourself with the complete set, the choice is yours:
"Away in a Manger," a soft lullaby celebrating the humble birth of Jesus in Bethlehem.
"Silent Night," a peaceful ode reflecting on that holy night of divine love.
"We Three Kings," a melodious journey of the Magi, guided by the star of Bethlehem.
"Adeste Fideles (Oh Come, All Ye Faithful)," a heartfelt call for believers to gather in adoration.
Crafted to be the perfect sentimental yet beautiful gift, they are sized just right to nestle into a Christmas stocking at 2.56" x 1.97" x 1.46" (6.5cm x 5cm x 3.7cm). No batteries or plugs required; gentle turning of the handle releases the harmonious tunes, continuing as long as you turn.
These Christmas music boxes make for a versatile gift, suitable for various occasions during the festive season - be it the beginning of Advent, Christmas Eve, Christmas Day, or anywhere in-between. They're also wonderful presents for friends, family, choir members, or anyone who cherishes the essence of Christmas.
At The Keeping Company, our mission is to create gifts that seamlessly blend beauty with faith. We hope these Christmas music boxes delight the hearts of young and old alike, reminding everyone of the joy, promise, and divine love that His coming has brought.