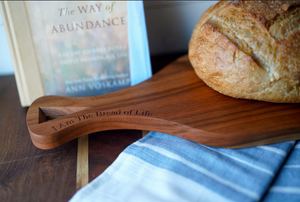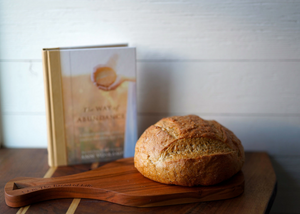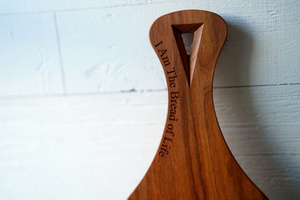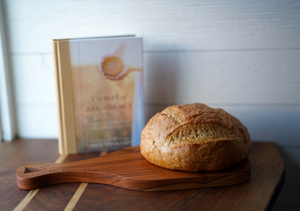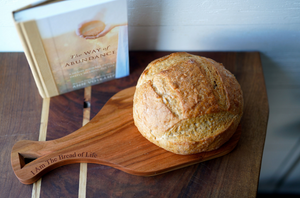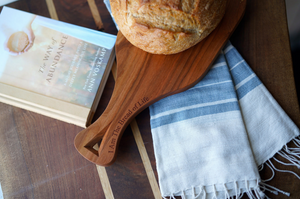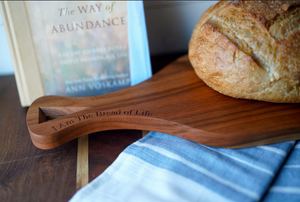 Bread Board - "I Am The Bread of Life" -
Please note, orders made today will ship Lordwilling December 7th.
We have carefully handcrafted this cutting board from cherry wood, and stained it with mineral oil. Engraved on the handle is the powerful phrase "I Am the Bread of Life", making it not only a functional addition to your kitchen, but also a meaningful one.
This cutting board is perfect for cutting a loaf of bread, vegetables, or herbs in your day to day life. It holds a special place in our own kitchen and is well loved and worn. It makes for a beautiful housewarming gift, wedding gift, hostess gift, or a special treat for Thanksgiving.
And to make it even more special, you can accompany this cutting board with goodies from your own kitchen. Imagine gifting a homemade loaf of bread, or a jar of homemade jam, along with this cutting board. It will be a thoughtful and special gift that will be cherished for years to come.
The breadboard measures 14.75 inches long and 6.5 inches wide, it's just the right size for any kitchen. We hope it brings as much joy to your home as it has to ours. May it serve as a daily reminder that Jesus is the Bread of Life, and we are nourished by Him.