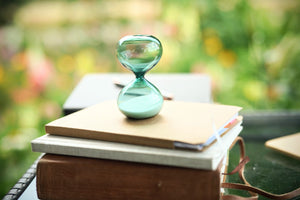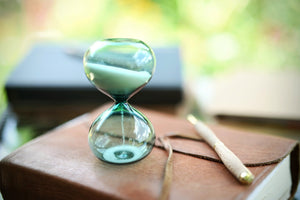 - What's Done for Christ - 5 Minute-Glass
Embrace the fleeting yet permanent nature of time with our Green Sea-glass Five-Minute Hourglass, a perfect blend of aesthetic appeal and symbolic significance. This beautifully crafted timepiece is more than just an ornament; it's a gentle reminder of the precious nature of our lives and the importance of intentional living.
Encased in transparent sea-green glass, this exquisite hourglass measures an exact five minutes. The sand, with its soothing flow, encourages a moment of reflection, mindfulness, or prayer in your daily routine. Its compact size and sleek design make it a versatile addition to any decor, fitting perfectly in your workspace, prayer area, or any corner of your home that could use a touch of tranquility and mindfulness.
Please note, orders made today including a 5-minute glass will ship Lordwilling October 15th-25th. 😊
Accompanying the hourglass is a thought-provoking brown tag, offering a profound quote to contemplate. One side reads, "Only one life, twill soon be past," a contemplative message reminding us of our mortality and the swift passage of time. Flip the tag, and you'll find the equally stirring, "Only what's done for Christ will last." This heartfelt message resonates with anyone seeking to invest their time wisely and live in alignment with their faith.
The Green Sea-glass Five-Minute Hourglass is an ideal gift for life events or graduations, offering a tangible symbol of time's fleeting nature and the pursuit of purposeful living. Alternatively, it can serve as a memento mori in your prayer space or on your desk, always reminding you of the larger perspective.
Whether you're seeking a meaningful gift or a personal reminder of the importance of every moment, this hourglass is a beautiful, tangible symbol of life's transitory nature and the lasting value of faith-filled living. Bring this symbol of time into your life or give it to someone you cherish, encouraging mindfulness, prayer, and purposeful living in every moment.