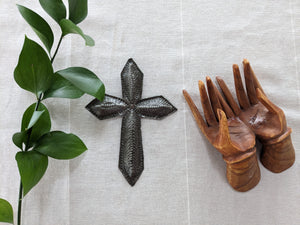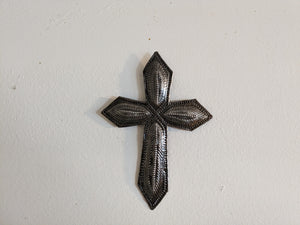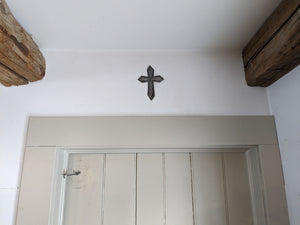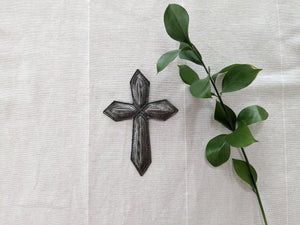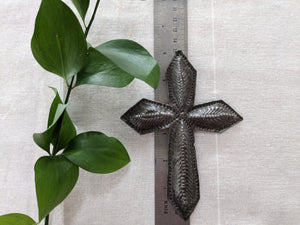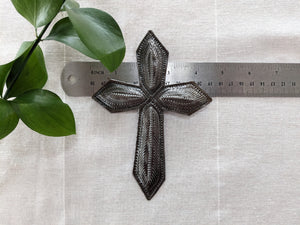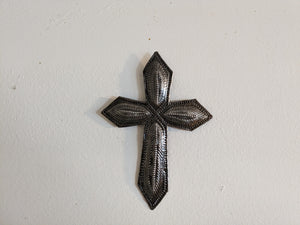 Hammered Tin Wall Cross
This newly sourced collection of Haitian metal art is a truly unique and special way to decorate your home.
This cross is perfect for displaying on your wall or using as a decorative accent above a door in your home. Measuring 6 inches tall and 4.5 inches across, this cross is perfect for decoration in a quiet spot or prayer nook. The cross is not only beautiful but also carries a meaningful message. May it remind us to hold Christ and the Cross above all as we enter and leave our homes.
Please note, orders made today will ship Lordwilling October 14th.
Each piece is handcrafted by one of a handful of skilled metal sculptors who have honed their craft over decades of tradition, innovation, and fair trade craftsmanship. One of the simplest yet visually stunning pieces is the large decorative cross.
Each cross begins its journey completely hand-cut from a flattened 55-gallon steel oil drum. The sheets of steel are made from recycled oil barrels, with the ends removed, and the cylinder vigorously cleaned, scrubbed, and scoured. The artist then sketches out their design and uses a hammer and chisel to cut and shape the metal into intricate patterns and forms.
Each cross is unique in its own way, embossed with line feathering and dots; the colors can vary from grey to blue steel, silver with earthy undertones, depending on the drum used in creation. A small hook is glued on the back, so it can be easily hung. Finally, each cross is carefully coated to protect it for many years to come.
The care with which these crosses are crafted makes them a wonderful gift for anyone who appreciates meaningful, handcrafted art. The end result is a truly unique piece of art that is unlike anything you'll find in a mass-produced product, with each one representing the finest craftsmanship in the tradition of Haitian metal art.
With their rich history, cultural significance, and stunning craftsmanship, these pieces are sure to become cherished treasures that you'll enjoy for years to come. And best of all, your pu