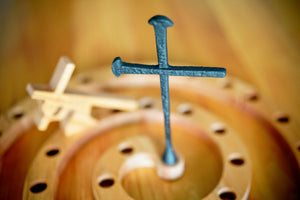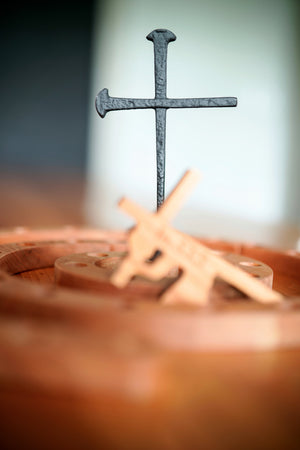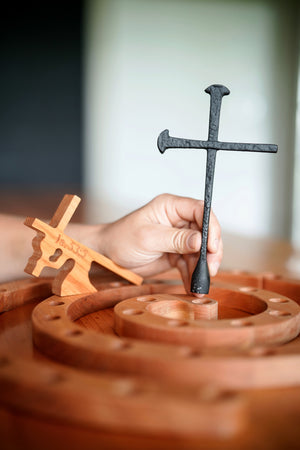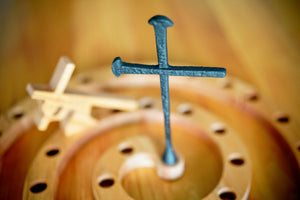 Black Nail Cross
Introducing the limited edition Black Nail Cross, a unique, thoughtfully designed piece cast in exclusive monthly batches of just 150 units.
Due to its limited availability, please note that it may take some time to fulfill all orders, but rest assured, this handcrafted masterpiece is worth the wait. Please note, orders made today will ship Lordwilling October 14th.
Perfectly designed to fit within the central hole of your Cradle to Cross Lent Spiral, it is a meaningful addition to your Easter celebrations. This poignant representation of the message of the Gospel not only beautifies your Lenten countdown but brings a profound symbolism to your observance of this holy season.
Crafted with exquisite attention to detail, each arm of the cross is skillfully shaped to resemble a nail, symbolizing the Crucifixion in a visually powerful and historically resonant way. The aesthetic simplicity of the nail design creates an elegant yet striking piece, reflecting the gravity and solemnity of the Lenten season.
Measuring 4.5 inches across and 8 inches tall, our Black Nail Cross offers a compelling visual impact without dominating your space. Its optimal size is designed to seamlessly complement your Cradle to Cross Lent Spiral, creating a harmonious and spiritually inspiring centerpiece.
Let each glance at this remarkable piece remind you of the profound journey that Lent symbolizes, inviting reflection, prayer, and anticipation of the joyous resurrection on Easter Sunday — a perfect addition to your Cradle to Cross Lent Spiral and an enduring symbol of faith and redemption